Return to Site Map
Bledlow, Buckinghamshire, England
This website was first created by May LANCHBURY on 9th November 2005, though all thanks and credit go to 'Uncle Dex' for his amazing hard work. I can not begin to imagine the hours and dedication this transcription work took, and would like to thank him on behalf of everyone who will view this site in the future. You're my hero Uncle Dex!!!

Please send me (May) an email if you wish. Any corrections or comments will be welcomed.
A full emailed copy of this work as a Word document attachment is available freely on request with the only condition being that no charge is ever made to share it with others. nb It is in excess of 400 pages and almost 2 Meg in size.
Photograph on this page of the Holy Trinity, Bledlow, Parish Church with very kind permission of Peter GOODEARL of Princes Risborough. I would like to give my most sincere thanks to Peter, for not only allowing me to use photographs from his own lovely web site, but for then walking what must have been a good 12 miles round trip to take extra photos for me of Bledlow Ridge. Your generosity in bringing life and colour to these pages is deeply appreciated by all who will never be able to see Bledlow and Bledlow Ridge themselves. Thank you Peter!
Photograph at the bottom of this page is of the Bledlow Parish Church Font, taken by Ken GOODEARL in 2006. Ken reports 'It is one of the 12 "Aylesbury" fonts made by the same craftsman in about 1200 A.D. They are all in the Bucks. Chilterns although the stone came from a quarry in Totternhoe, Bedfordshire'. Thank you so much for sharing this photograph with us Ken, it is of great interest and value to all with family who were baptised in this church. Thank you Ken!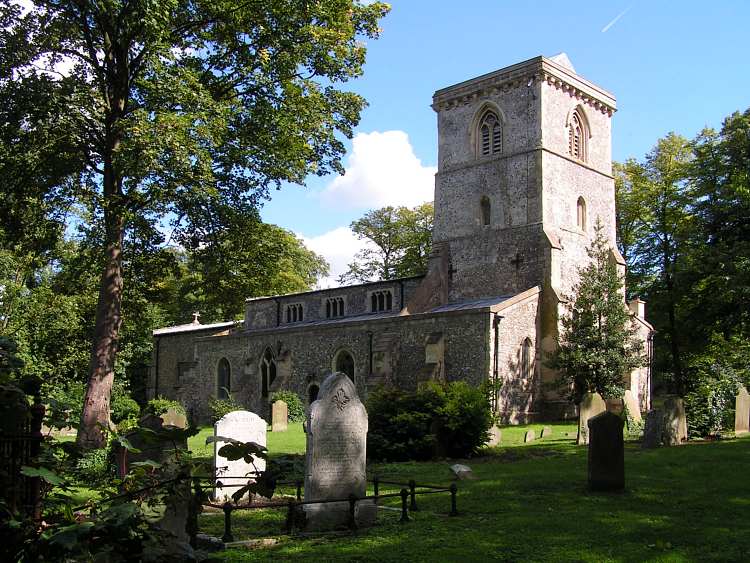 This page holds the introduction and the 1500s records. Click on the following links to go directly to
1600s / 1700s / 1800s / 1900s / Baptism Index / Marriage Groom Index / Marriage Bride Index / Burial Index


Bledlow, Buckinghamshire, England

VITAL RECORDS

Baptisms, Burials, Marriages from transcriptions available on microfilm through Family History Centers of The Church of Jesus Christ of Latter-Day Saints.

Table of Contents:

Firstly, after background, introduction, apologia, you will find

1. The main body of EXTRACTS - preserving as nearly as possible the spellings of names as they appear in the referenced material. These are ROUGHLY chronological, but be aware: the years 1813 onwards were missing from first set of films, and, coming from a different film, proceed after the first set terminate about 1839... I did this to avoid confusing the film sources. If you do not understand the calendar changes that resulted in dating Old Style/New Style, e.g., 7 Jan 1676/77, look it up somewhere else. All I am telling you is that the NEW YEAR used to begin in late March. Conversion to new calendar was SLOW in England - we did not like to take instruction from the Pope.

2. Then comes four indices, or indexes as we say here in the southern US states, one index each for:
Baptisms
Burials
Marriage Index to Brides
Marriage Index to Grooms

The indexes were made with database software (MS Access) - I cannot explain why I do things the way I do - but I took more time and care with the baptisms index, fitting the various spellings of each surnames into groups under a singular spelling - you will see what I mean and be glad for it. It just wasn't as important to me for the burials and marriages. Another feature of the INDEXES is un-Latinizing names found in the EXTRACTS - turning Gulielmus to William, Jacobus to James, Galfridus to Jeffrey, etc.

November 2005 Dexter D. EUSTIS
Aberdeen, North Carolina, USA

With many thanks for assistance to a good friend: May Lanchbury
Joondalup, Western Australia

A little background information for those who may be curious: I have been engaged in family history research since high school - don't tell anyone else but I started high school in Strong, Maine, USA, in 1957 - well... aged about... would you believe 4.

(Cousin) Warner EUSTIS produced a marvelous, three-volume set (really two hardbound books and a pamphlet-sized supplement) entitled "EUSTIS Families in the United States." This work includes all that he could identify as descendants in the male line (Eustises) of William son of Joseph EUSTIS. This William was born in Bledlow, Buckinghamshire, England and came to Boston, Massachusetts, USA, in the "Great Puritan Migration." Anyway - these volumes are available thru the (LDS Church) Family History Library Catalog, and you will find me there listed with a birth date of 22 July 1943. Humph... one of us, Warner or I, produce fictitious data.

An active "Eustace Families Association" includes a worldwide membership and has intermittent musters: 1979 at Pyrton, 1981 at Bledlow, 1983 at Watlington, 1985 at Lambeth, and 1999 at Watlington. A tentative muster is on the planning board for May or June 2006. Association Links are as follows: North America, Ronald Eustice, e-mail: eusti002@tc.umn.edu or ron@mnbeef.org; Great Britain/Ireland, David Eustace, e-mail: dje@dial.pipex.com; Australia/New Zealand, Jim Eustice, e-mail: jimeus@mail2australia.com. Membership fee is small, about US$15, and family newsletter is priceless.

More families than just us Eustaces populated Bledlow AND most of those other families supplied spouses, until we now find ourselves cousins of various degrees and various numbers of times... many of us becoming our own cousin...

Okay, enough of that... A web search on "Bledlow" yields a number of articles. I found the GENUKI article very informative. The old church, Holy Trinity, dates back to 12th and 14th centuries - terrific photo at : (as of July 2005 - can't guarantee it will still be there, but here is the "whatever you call this thingy.")
www.countyviews.com/bucks/chpages/bledlow1.html
&nbsp
From the GENUKI article, referenced [Buckinghamshire, by E. S. Roscoe] : "Bledlow is the most western of the villages which stand on the northern spur of the Chilterns, and one of the most attractive. It is charmingly placed just above the low-lying meadows which stretch across the Thame Valley to Haddenham. A large, straggling village shaded by elms; behind it rises Wain Hill, some of it all woodland, the rest bare down."

The Icknield Way runs through - an historic old "road" - look it up...used by Romans, yes, but also by prehistorics. A spring-fed pool, called the Lyde, is said to be eating away at the rock on which the old church is built. Thus the old proverb:
"They who live and do abide
Shall see Bledlow Church fall into the Lyde."

Don't hold your breath, the old church is still there after these many hundred years.

Introduction: this is an attempt at deciphering the records of baptisms, burials, and marriages of Bledlow, even though I lack qualifications for reading the old scripts and spellings. I have incorporated into this work material from a number of microfilms available thru the Family History Library of the Church of Jesus Christ of Latter-Day Saints (LDS Church), made available thru accessing the Library Catalog at www.familysearch.org on the internet and then ordering the films thru your local LDS Family History Center (FHC), also located thru the same internet address.

Many pages from early years were worn, smeared, faded, soiled and otherwise difficult to read... even before they were filmed. Item 1 on Film 0,416,723 is a typed copy of a transcription made by W. H. Challen of Bishop's Transcripts found at the Guildhall Library, London. I used it as a guide to help decipher the early entries on Film 1,999,060 which is another set of Bishop's Transcripts, filmed at Bledlow, but with additional years. At this time (summer of 2005), there appears to have been no filming of original Bledlow church register. Film 1,696,697 also purports to be a transcription of Bledlow records - it has some differences and a few additions - making it likely that it comes from original Bledlow Church Register. It has been incorporated with notations to show what it adds. The church at Bledlow Ridge (St. Pauls's) was filmed separately on two films and is also included here. Film 1,042,374 - item 16 has baptisms commencing in July of 1868 and ending in November of 1881. Item 17 has burials commencing about the same time (date column is not legible for first few) and ends October 1883. Item 18 has another, different, copy of baptisms commencing in 1868 (duplicating but not exactly the same as item 16) and ending in March 1881. Differences are notated as they occurred. Film 1,967,011 adds baptisms at St. Paul's Church, Bledlow Ridge, commencing with two more for 1881, and ending in July 1903.



So, lets get started...

Only in the absence of a more qualified transcription do I offer this one. Please forgive all errors. [D. Eustis, Aberdeen, North Carolina, USA Nov 2005]

Film 1,999,060 purports to include 1590 - 1840, missing: 1601, 1635, 1647, 1650-1658, 1660, 1663-1679, 1674, 1676, 1678, 1683, 1686-1701, 1709, 1730, 1801, and 1830.

Records here marked with an asterisk (*) are shown as abstracted by W. H. Challen, on film 0,416,723, item 1, hereafter called the Guildhall transcript. For the most part there are identical entries on the transcripts on film 1,999,060, items 2 and 3, hereafter called the Bledlow transcripts. For some reason, likely because the Guildhall Library already had modern transcriptions of them, W. H. Challen transcribed very few baptisms and burials for Bledlow, but mainly only marriages. To the marriages I have added a very few that are on the Bledlow transcripts, but may have been missing from the Guildhall copies - you may know them by the lack of an asterisk(*).

1590 BAPTISMS [On film I was using, I could not read the day and/or month, sorry... that column of each page was blurred AND Roman numerals were not same as we now use.]
* Oct 25 Lawrence son of Henri Hewstys
* 28 Francys dau. of Willm. Stephens
* Nov 1 Sybell dau. of Robert ffletcher
* Dec 25 Johen son of Thomas Aldridge
* Dec 15 Rychard son of Edward Rans
* Jan 6 Jonas son of Johem Umfray Junior
* Feb 14 Rioffe s. of James Sall
* Feb 28 Henry s. of Edward Holt

* 1590 "non maried"

1591 BAPTISMS
* Mch 18 Nycolas s. of Johem Oxlard
* Apr 5 Willm. s. of Willm. Bygge
* 27 Johem s. of Heue Franklen
* May 11 Thomas s. of Thomas Bedall
[I was very glad to have the W. H. Challen transcription to help me understand the squirls and scribbles as "Thomas," since several "Thomas"-es are my direct ancestors AND those ancient letters are very unlike what we now use.]
* July 4 Phelys dau of Thomas Tripe
* July 18 Ric. son of Ric. Rance
* Aug 1 Margery dau. of Roger Costard

1590/1591 BURIALS from W. H. Challen transcript: *"The first Transcript contains Baptisms 1590 followed by Baptisms 1591, then : "non maried," and then three burials without the year, so these three may either be in 1590 or 1591."
* .?. Mch. 30 Agnes the wyff of Ryc. Byg
* June 5 Elyzabeth fenner
* June 10 franc. Waters

At this point the Guildhall Library transcription by W. H. Challen skips to the year 1614, where it notes "No transcript available." The film I have, from Bledlow, has intervening years, which, sorrowfully, I had to decipher without any help. Errors are sure to abound, but I thought this might be better than nothing:

1594 BAPTISMS I add "(?)" to those items especially questionable
John sonne of Edward Lamborne(?)
Rowland sonne of William Bigge
Thomas sonne of James Stevens(?)
Alice(?) dau of Edward ffrancklen
Christopher sonne of Thomas(?) Newhill(?) [alternate spelling of Newell?]
Joan dau of Roger(?) Bosworth(?)
Elizabeth dau of Edward Ehinghe(?) [Chitch ?]
Henry sonne of Henry Goodals
Anne dau of John ffloid

1594 MARRIAGES
* Oct. 27 Phillip Endorsee [Engolsbee] & Katherin Sale


1594 BURIALS
John son of Edward Saunders(?)
Jane Aymes yonge widdow
John Jefkin
Alice dau of... ...
[remainder undecipherable]

1595 BAPTISMS
Edward sonne of Phillip Engolsbee
... [Anne(?)] dau of Henry Greenwood
John sonne of John Norris(?) or Morris(?)
Katherin dau of Edward ffrancklen(?)
John sonne of Henry Brian
Jane dau of Henry Sale
Stephen sonne of William Smith(?)
Edward sonne of Edward Holt
Phillis dau of Thomas ffletcher

1595 MARRIAGES
* 1595 "none recorded"



Go to 1600s / 1700s / 1800s / 1900s / Baptism Index / Marriage Groom Index / Marriage Bride Index / Burial Index
Home Page
Site Map