LA(I)NCHBURYs mentioned in miscellaneous places
Click on the link below to go directly to that part of the page.
Armed Forces Members
Authors
Bastardy Orders
Canadian Records
Church Communicant List
Kelly's Directories
Electoral Register
Migrants/Travellers
Photos
Politician/Housing Estate
Prisoners/Wrong-doers/Witnesses
Railway Worker
Etcetera... School Register, Police Record, Building Licence




LANCHBURYs in the Armed Forces
From the National Archives, Kew.
WO 160 piece 3040: LAUNCHBURY George and LAUNCHBURY Albert, both Privates in D Coy, 2nd Bn Royal Berkshire Regiment in 1897 based in Aldershot.
WO 160 piece 3039 I found: LAUNCHBURY D, Reg. No.4028 in C Coy. Oxford Light Infantry, Dec 1897 at Oxford.
WO 160 piece 3038 I found: LAUNCHBURY T. Reg. No.2995 in Worcester Regiment, in October 1897 at Devonport.
Many thanks to Mike Walker for these entries.

* ~ * ~ * ~ * ~ * ~ * ~ * ~ * ~ * ~ * ~ * ~ * ~ *

Evesham Journal and Four Shires Advertiser Sep 26 1914
Roll of Service, 1914-1915
Lanchbury, Ernest of Snowshill serving in Kitchener's Army
Launchbury, C.H. of Stratford on Avon serving in Warwickshire Artillery
Launchbury, William of Snowshill serving in Kitchener's Army

* ~ * ~ * ~ * ~ * ~ * ~ * ~ * ~ * ~ * ~ * ~ * ~ *

Evesham Journal and Four Shires Advertiser Dec 12 1914
Roll of Service, 1914-1915
Launchbury, E. of Snowshill serving as a Pte. in the 9th Bat. Glos. Regt.
Launchbury, W. of Snowshill serving as a Pte. in the 9th Bat. Glos. Regt.



Authors - or those who have contributed to the literary world



Jill LANCHBERY, a member of the LANCHBURY List, recently published her own book. She writes "Just to let you know that my dream is now a reality and my book 'A Bucket of Ashes' can be purchased from Amazon ISBN 1-905988-01-X or ordered from your local bookshop". Our heartiest congratulations to you Jill, it sounds like a really touching read and I hope it's a best seller!!!


* ~ * ~ * ~ * ~ * ~ * ~ * ~ * ~ * ~ * ~ * ~ * ~ *



One Caleb LAINCHBURY is credited with contributions to "A History of Spelsbury" by E Corbett. He was presumably quite old when he wrote the book around the 1920/1930s as he gave information regarding the Crimean War. Quite separately this name also features briefly in some of my mother's records of her time in Chadlington - a note says that 'grandfather Caleb LAINCHBURY, daughter and offspring live in Alberta Canada' ......and goes on to mention ... 'the grave in Spelsbury churchyard'.

Contributed by Michael C. Thank you Mike!
See also LAINCHBURY Family of Kingham, Oxfordshire

From "The Threshers Yard" book which was written about LAINCHBURY & Co, Kingham, Oxfordshire. It does not contain much in the way of genealogy, but is full of photos of the old machines the firm used and manufactured. However, if you would like to learn more, see also LAINCHBURY Family of Kingham, Oxfordshire

From "The Winchcombe Millennium Book" comes a snippet from Evelyn LANE nee LANCHBURY, daughter of Aldwin Job LANCHBURY and Emily nee CARE.

I was born in Winchcombe in 1908 and if I had been paid for all the chickens I plucked I would have made a lot of money. My father killed our cockerel because it chased us. My father was a baker and he earned eighteen shillings a week which had to feed our family of nine. My mother used to give him back one shilling pocket money. She took in washing to make ends meet. My first job was looking after children and I earned one shilling and sixpence, which I gave to my mother and she gave me back tuppence as pocket money. At that time you could buy sweets at Mrs Pulham's shop, a halfpenny would buy a bar of Sharp's toffee.



Bastardy Orders
Parish of SCROPTON AND FOSTON, Derbyshire - Bastardy Orders
Q2/298 Ann AULT Scropton John LATHBURY Apr 1825
Q2/303 Ann AULT Scropton John LATHBURY Burton upon Trent blacksmith. Jan 1825
Q2/350 Ann AULT Scropton and Foston single. John LATHBURY Burton upon Trent, blacksmith 1825
Q3/70 Ann AULT Scropton and Foston John LATHBURY 1825

To order copies of these documents click here"



Miscellaneous Canadian Records
First one from the Canadian Home Children search, and the remainder from the Canadian Land Grants site.a

Home Children

LAINCHBURY , Arthur
Sex: M
Year of arrival: 1903
Microfilm reel: T-481
Ship: Ionian
Port of departure: Liverpool
Departure Date: 9 Jul 1903
Port of arrival: Quebec
Arrival Date: 18 Jul 1903
Party: Not Given
Destination: Various
Reference: RG76 C 1 a

Found these on a Canadien Land Grants site.

Legal Land Description

1 NE 1 39 8 W4
Part Section Township Range Meridian
Reference:
Liber: 784
Folio: 127
File reel number: C-6564
Names: Albert Wm Lainchbury

2 SW 1 39 8 W4
Part Section Township Range Meridian
Reference:
Liber: 895
Folio: 87
File reel number: C-6658
Names: Alfred Edward Lainchbury

3 NW 28 53 9 W4
Part Section Township Range Meridian
Reference:
Liber: 428
Folio: 13
File reel number: C-6281
Names: Frank Lainchbury

4 SE 32 53 9 W4
Part Section Township Range Meridian
Reference:
Liber: 456
Folio: 237
File reel number: C-6304
Names: Albert Lainchbury

5 SW 2 47 23 W4
Part Section Township Range Meridian
Reference:
Liber: 181
Folio: 418
File reel number: C-6076
Names: Alfred Lainchbury



Communicants at St Mary's Parish Church, Warwickshire, 1586
Thomas LATHBURY and Jone "his wief"
John LATHBURY and Francys "his wief"
From http://www.hunimex.com/warwick/st_mary_1586.html



Kellie's Directory entry 1936
Lanchbury W. - Grower - Phone no. Stone 23
Launchbury Archibald Charles - Station Master, goods agent - L.& M.S., High St. Aylesbury
Thank you to Anne Allison for this information.



Electoral Register of Oxfordshire, England for 1914/15
Registered to vote at Dean...
Caleb LAINCHBURY
Wilfred LAINCHBURY
Ruben LAINCHBURY
Chadlington...
Charles LAINCHBURY of Green end
James LAINCHBURY of Brook End
Joseph LAINCHBURY of Chapel Rd
Richard LAINCHBURY of Brook End
Mary Ann LAINCHBURY of Chipping Norton Rd
Charlbury...
Thomas LAINCHBURY @ Sheep St
Louisa LAINCHBURY @ Fisher's Lane
Enstone...
Emma LAINCHBURY @ Spring Hill, Neat Enstone
Heythrop...
William LAINCHBURY at Heythrop Village
Witney...
Stephen Launchbury @ West End
Elizabeth LAINCHBURY @ Cape Terrace
Idbury...
William LAINCHBURY
Churchill...
Caleb LAINCHBURY @ Near Kingham Station
Kingham...
Ernest John LAINCHBURY Caleb LAINCHBURY
Hook Norton...
William LAINCHBURY
My sincere thanks to Peter BOWELL for this data and for his time taken in looking it up for me.



Migrants or Travellers



"Donald C Lanchbury - Deportee per "Orama" April 1932" is reported on the 'National Archives of Australia' website at http://www.naa.gov.au/The_Collection/recordsearch.html




* ~ * ~ * ~ * ~ * ~ * ~ * ~ * ~ * ~ * ~ * ~ * ~ *



Caleb and Elizabeth LAINCHBURY were married in Acton (near London) in 1870, and sailed from London to New Zealand in November 1873 when Caleb was aged 26. Caleb was listed as an agricultural labourer from Oxfordshire, England. There was also a John LAINCHBURY aboard the same ship, but they settled on different islands of New Zealand.

John was listed as aged 22, unmarried, an agricultural labourer from Oxfordshire, England, while onboard the Carnatic, which arrived in Dunedin in February of 1874.

It appears at this stage that the two were not brothers, though we would welcome information if anyone has it.

Contributed by Marie C. Thank you Marie!


* ~ * ~ * ~ * ~ * ~ * ~ * ~ * ~ * ~ * ~ * ~ * ~ *



Albert LAINCHBURY seems to have been a crew member onboard ships. I think he may have also had a residence in New Jersey unless this was only a visit he was going to make while in the States.

name. Albert LAINCHBURY
arrived. July 8, 1904
age. 30
ship. Baltic
from. Birmingham, England
money. $17 US
destination. 210 Ocean Ave., Jersey City, New Jersey
Jacob Ebiston or Cliston (not too easy to read) his brother in law.

Made a few more trips and was still a crew member in 1924 at the age of 54 and stated as unmarried.

name. Alfred LAINCHBURY
arrived. Nov 10, 1920
age. 21 years
ship. Wauconda out of London
able to read
wiper on ships crew
discharged on arrival
5' 3" tall and weighed 138 lbs.



* ~ * ~ * ~ * ~ * ~ * ~ * ~ * ~ * ~ * ~ * ~ * ~ *



Then there is Florence LANCHBURY and I'm not sure if this is 2 ladies or the same one because her age matches up on all of the times she came to the States but some of the rest of the statistics are different.

name. Florence LANCHBURY
arrived. Nov 10, 1905
unmarried
21 years of age
ship. Baltic
from London

name. Florence LANCHBURY
arrived. Nov 23, 1907
age. 23 years 9 months
unmarried
employer paid passage
residence: 29 Washington Square West
New York City, New York
5' 1" tall - fair complexion
Dark hair and brown eyes

name. Florence LANCHBURY
arrived. Nov 21, 1909
age. 25
born Cornwall
ship. Cedric
C/o Mrs Lance/Laucine/Lawrence? Dunham/Durham?
29 Washington Square W.
New York, New York
Fair hair and blue eyes


This data was contributed by Denise P. Many thanks to you Denise!



Photos of LANCHBURYs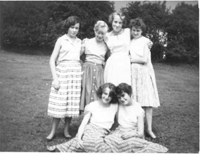 "On the field in 1959" Taken in Stourbridge, Worcestershire.
Back Row; Left to Right. Madeline Heathcote; Jennifer Kid; Chris Allen; Brenda Meredith
Front Row; Left to Right. Sue Brookes; Rachel LANCHBURY
Sincere thanks to Sue Roughton(Brookes) for her permission to use this photo here.



LANSBURY Housing Estate, England
Click to view in a new browser window the Lansbury Housing Estate, established in 1951. There is a picture of actress Angela LANSBURY on this site and clicking on that produces a short message from her saying that her Grandfather was a remarkable man. On investigation elsewhere on the Web it turns out that her Grandfather was the English politician who fought the cause of the poor. Here is a very interesting article about him. This will open a new browser window.



Prisoners and wrong-doers



Robert LANSBERRY, age 20, of Fenny Stratford, Buckinghamshire was gaoled at Aylesbury on 28 December 1871 for his crime of 'stealing fowls'. He was sentenced to 4 months imprisonment. Robert had been born in Woughton, Buckinghamshire and his occupation is listed as a brickburner. To see his photograph, visit the Bucks County Council website, and type LANSBERRY into their surname search box.




* ~ * ~ * ~ * ~ * ~ * ~ * ~ * ~ * ~ * ~ * ~ * ~ *



'Declaration of Hester LANCHBURY respecting James Bowell and Eliz Grafton.

Hester Lanchbury of Chadlington solemnly declares & is ready to confirm it with an oath that she has known James Bowell & Elizabeth Grafton for many years - that she lives in a house adjoining to the dwelling of Elizabeth Grafton - that she has frequently seen the Prisoner in company with her during the last twelve month, that they were frequently together to her certain knowledge at ten eleven twelve o'clock at night - and that she believes that Elizabeth Grafton is a woman of very light Character-

The mark of X Hester Lanchbury
Signed in the presence of James Burden Parish Clerk & Jon. Coulling'

Michael writes... There is no date but all the other documents are dated April 1789. Bowell had been convicted of the rape of Grafton and was due to hang. Sentence was postponed for several similar 'appeals' to be made. They generally requested that he be transported rather than hung. I have not yet got to the end of my quest regarding James Bowell. I have no family connection with these people - just an interest in both Spelsbury and a later Bowell. The offence appears to have been committed in Spelsbury, but the parish boundaries join at East End Chadlington.

Thank you to Michael Cross for transcribing this document for us.



Railway Worker
Great Western Railway Magazine of March, 1943 reports one L LANCHBURY working as a Fireman in Bristol, Gloucestershire.



ETCETERA. Or... Other mentions that don't fit above.
Posse Comitatatus for Buckinghamshire shows zero entries for LANCHBURY.
Thank you to Anne Allison for this information and for looking through the indexes for us.
Register for Tysoe School, Warwickshire, shows Victor LAINCHBURY, Reg No 539 admitted 30 Jun 1924, date of birth 21 Mar 1913 of Tysoe. Parent only shown as Mrs LAINCHBURY. Last school attended, Highfield Road, Saltley. Notes - Not exempt from religious instruction.
Thank you to Barb Stacey for this entry.
28 Jan 1884 George LAINCHBURY joined the Police Force as a PC. Warrant Number 44717.
4 May 1891 pensioned after gaining the rank of PS.
For more information on other police personnel go to 'London Metropolitan Police Orders Database'
Building licenses issued in the city of Red Deer, Canada.
298164 30-March-98 4943 50 St 36 TO 18 H Value $: $5,000
COMMERCIAL BUILDING (RENOVATION)
Owner Name:Royal Bank Realty Inc
Owner Addr:C/o 4th Floor Royal Bank Building 4943 50 St Red Deer AB

Comments:Renovations to Johnson Ming Manning Offices Contractor Name:LAINCHBURY Construction
Street Address:5742 35 St
City Address:Red Deer T4N 0S6
Phone:403-340-0339

http://www.city.red-deer.ab.ca/cityservices/licenses/1998/03_98bps.html


Take me back to
LANCHBURY HomePage
LANCHBURY Site Map

Please email May at maygenealogy @ lanchbury.id.au (removing the spaces). Additional data for this site will be welcomed.

This page was last updated 29th May 2007