This page is made with data and photographs kindly sent to me by Michael and Barbara Clemens
to honour the research done by Michael's late Aunty Rita on his (and her) LANCHBURY Family Tree.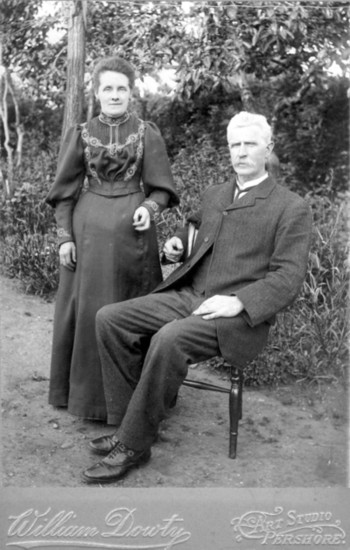 Sarah LANCHBURY and Hubert CLEMENS were married at St Clements Church on 3rd June 1877.
This posed photograph was taken by William DOWTY (see note below).



Michael's Great Grandmother was born Sarah Ann LANCHBURY in Draycote, and baptised on 24th June 1855 at Blockley, Worcestershire. She married Hubert CLEMENS, a coal merchant, at St Clements Church on 3rd June 1877, and later died in December 1920.

Sarah's parents were Jonathon LANCHBURY, a railway man, and Ellen STANTON. We know that they were married on 6th May 1855 in Blockley, and that their other children were Henry James, born in 1859, Florence Lucy, and Edith Stanton. It is believed that one of these girls went to America. Ellen's will was dated 4th March 1881, so presumably she died a little before that date.

Jonathon's father was named James LANCHBURY, a baliff of Throckmorton.
133 High Street, Pershore c1901
Shown here is a photograph taken at the CLEMENS family home, 133, High Street, Pershore, Worcestershire. The home was purchased in 1886 by Hubert and Sarah and was owned by the family until 2004. The photograph was taken circa 1901 and all in the photograph are family members except for the man with the shovel and the man by the horse. The young lad in the centre, between the 2 girls is Michael's Grandfather, Charles, who was born 5th November 1894. Sarah LANCHBURY is 2nd from the left.

Michael writes that the family business was coal, delivered by the horses and carts in the bags on the right. His grandfather was very much into the modern day technology and built hot air balloons, wireless telegraphy receivers and gliders, all before 1914. To test one of the large gliders he decided that the family cat should be used as a 'test pilot'. "I understand the cat survived its experience OK but that my grandfather had a considerable 'ear bending' and possibly more from his mother Sarah!"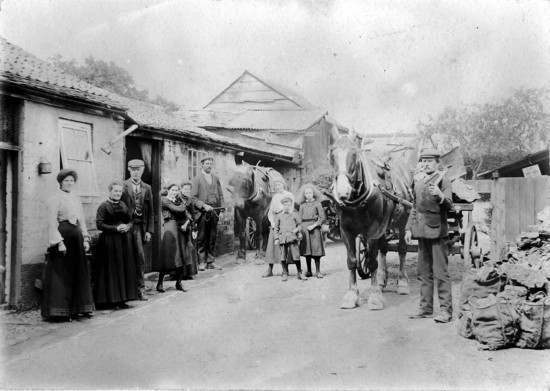 133 High Street, Pershore c1929
This picture shows Michael's Father 'Jim', aged about 7 in the middle at the back of the photo. On his left is Michael's Grandfather.