Edith Ellen LAINCHBURY
This cross-stitch sampler was found for sale in a shop in Chipping Norton, Oxfordshire, and was promptly purchased on 10th May 2006 by David LAINCHBURY. David very kindly took a photograph and posted it to me here in Australia in order to be added to. this website. I would really like to thank him so much for being willing to go to the expense and trouble so that I can then share it with the world.


Of course the mystery remains as to where this sampler resided for the 66 years between Edith's death and its appearance in the antique shop in 2006. Edith was unmarried and childless so we have no ideas where it may have languished. If anyone has any knowledge please do email and let us know.
'If Thou shouldst call me to resign
What most I prize - it ne'er was mine
I only yield Thee what was Thine
Thy will be done.'

Here is the sampler (left) as David purchased it and then (right) since it has been framed. He apologises for the appearance of the framed photograph because of reflections from the glass but we can certainly see that he has made a beautiful job of restoring this precious family memento to a place of pride. I can't help but wonder what that 12 year old school child in 1882 would make of her needlework being visible to everyone, no matter where they are in the world.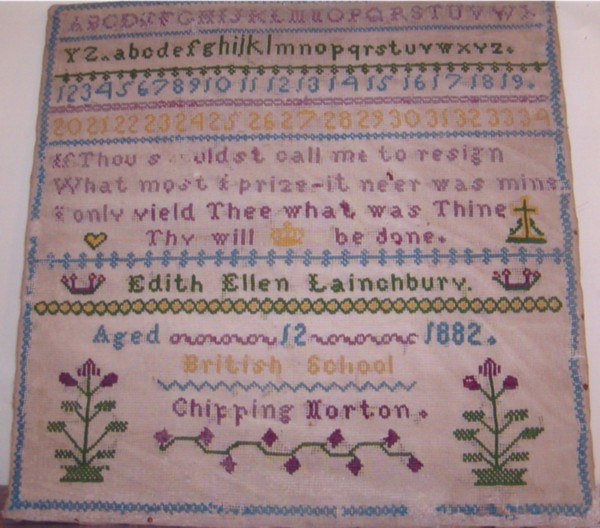 Also with thanks to David is this photograph of the British School in New Street, Chipping Norton, where Edith Ellen did the embroidery. He says that the building is now apartments, but it still looks wonderfully old and original from the outside.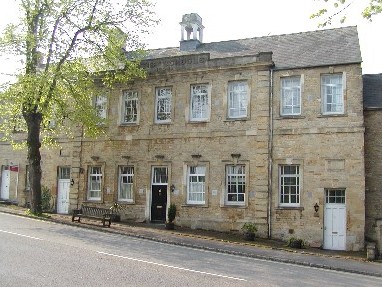 Who was Edith?
Thank you to Dave and David for most of this information...
Born 1869-70, in Chipping Norton, Oxfordshire, 1837Online comes up with a birth registration at Chipping Norton in the September quarter of 1869, reference 3a/669 (though the 669 is unclear).

1901 Census, New Street, Chipping Norton:
Caroline LAINCHBURY HD w 54 Upholsterer b Mickleton, Glouc
Edith do DA s 30 Dressmaker working at home b Chipping Norton, Oxon

1891 Census, New Street, Chipping Norton:
Caroline LAINCHBURY HD w 45 b Mickleton, Glouc
Ann SCARSBROOK Mother w 75 Living on Own Means b Charlbury, Oxon
Edith E LAINCHBURY DA s 21 Dressmaker and Milliner b Chipping Norton
Walter do SO u 19 Printers Apprentice b Chipping Norton
Frank do SO 17 Grocer Apprentice b Chipping Norton

1881 Census, New Street, Chipping Norton:
William SCARSBROOK HD m 72 b Asthall Cloth Tenter (Wool Manuf)
Ann do WI m 66 b Charlbury
James do GS u 17 b Chipping Norton, Tailor
Caroline LAINCHBURY DA w 35 b Mickleton, Glouc, Dressmaker
Edith E do GD 11 b Chipping Norton, Scholar
Walter do GS 9 b Chipping Norton, Scholar
Frank do GS 7 b Chipping Norton, Scholar
Charles do Boarder u 19 b Dean, Engine Fitter at Cloth Factory
Jabel do Boarder 14 b Dean, Piecer at Shawhand Tweed Factory (Woolen Cloth Manuf)

This looks to be her, and her Mum was nee SCARSBROOK. But born in Gloucestershire.

1871 Census has this family in New Street, Chipping Norton:
William SCARSBROOK HD m 62 Cloth Drier b Astall (sic)
Ann do WI m 56 b Charlbury
Eli LAINCHBURY SL m 24 Thrashing Engine Driver b Cornwell
Caroline do DA m 24 b GLS Mickleton
Edith E do GD 1 b Chipping Norton

Now; who's Eli?

1861 Census, Cornwell, Oxon:
John LAINCHBURY HD m 53 Ag Lab b Cornwell, Oxon
Mary A do WI m 55 Ab Lab b Kingham, Oxon
Caleb do SO u 16 Agr Labr b Cornwell, Oxon
Eli do SO u 14 Agr Labr b Cornwell, Oxon

1851 Census, Cornwell, Oxon:
John LAINCHBURY HD m 43 Ag Lab b Cornwell
Mary Ann WI m 45 b Kingham
Ellen (9), Caleb (6) and Elija (4), all Village Scholars, all b Cornwell.

1841 Census, Cornwell:
John LAINCHBURY 30 Ag Lab
Mary 35
Raichel (6), Harriet (4) and Ellen (1m)
George HATHAWAY 70 Ag Lab (presumably Mary's father)

John LAINCHBURY married Mary Ann HATHAWAY 1832 Cornwell, and Eli (1847) was the youngest of 7 known children.

From there back is POSSIBLY as follows.

John was probably the 1807 son of William LAUNCHBURY and Hannah nee X.
William was possibly the 1774 son of John and Ann nee MOSS.
John was possibly the son either of William and Hester nee GARDINER (b 1741) or of John and Sarah nee HUNT (b 1736). Those two alternative fathers of John may have been brothers, sons of Hercules and Mary nee X. If John was the son of William, his baptism was 1711; if he was the son of John then it was 1713.
Hercules (b 1680) was probably the son of William & Sarah nee HARRIS, and Mary may have been his second wife.
It is not known who William was, but his 1735/38 Will is available on the wills pages of this site



And some wonderful news to finish this page. I have been told that the sampler has been purchased by a LAINCHBURY family member who plans to have it framed. It is so good to know that it is back in the family once more, where it will be treasured lovingly.



Please click here if you wish to send me an email. Additional data for this site will be welcomed.
This page was last updated 7th Nov 2010