LAUNCHBURY - Two Keiths Meet
I would like to say a sincere thank you to Keith (number 1) for finding me, making contact, and writing this very interesting article for us all to enjoy and share. I hope that it will be seen by other LAUNCHBURYs and lead to new discoveries about the family, both historically and in the present time.



There's More Than One Keith Launchbury

It was a quiet day in the office, Tuesday 25th January, 2000. The phone on my desk rang and I picked it up to answer in the usual manner: "Keith Launchbury speaking." The caller also introduced himself as "Keith Launchbury" and, in the conversation that followed, I think I said "WOW" on at least five occasions in sheer astonishment that another Keith Launchbury not only existed but had reached me with a phone call direct to my office desk at Preston Borough Council. I had only had a computer for a few months and this was as clear a demonstration as anyone would need that the Internet could make the most unlikely of contact possible.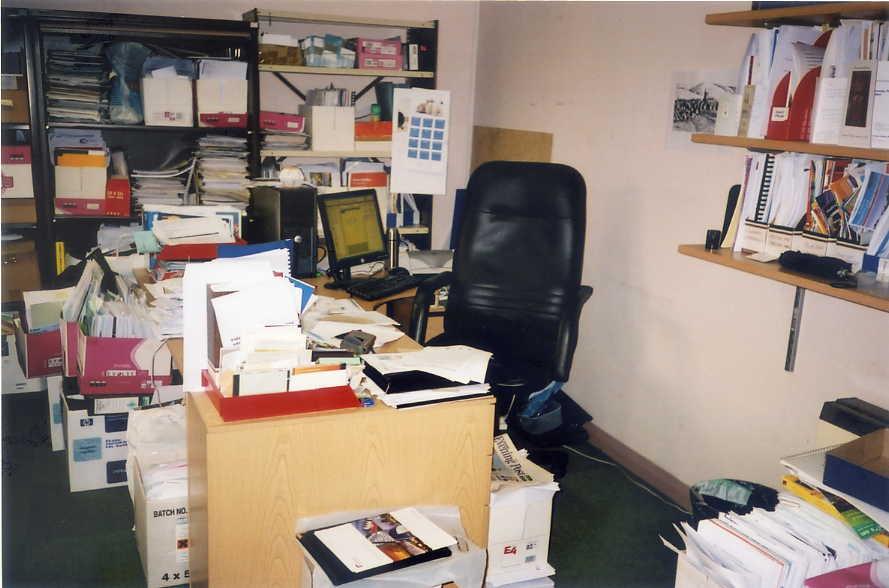 A couple of days later a letter arrived to affirm the new reality that there were indeed two Keith Launchburys [to be uploaded once permission is gained from Keith Number Two]. In the picture below I am the Keith Launchbury in the middle of the front row (circa 1960). The picture is of the Launchburys into which I was born. In the middle of the back row is my mother, Zelie Launchbury, who is holding my sister, and my father, Alan Launchbury is on her left. To my own right is my grandfather, Sidney Launchbury (born 1894), a man greatly respected in his neighbourhood (Grange Road, Small Heath, Birmingham).

Sidney had been recommended for the VC in WW1 for saving a Lewis Gun from falling into enemy hands (and not for saving the lives of two even more severely wounded comrades who survived with him in a shell crater for three days). Curiously, he enrolled in the 11th Battalion of the Royal Warwickshire 2nd Regiment under his mother's maiden name, Tudge, and that is the name on the Military Medal he eventually received (the papers describing his heroism having being lost with the death of his commanding officer less than a week after the act of gallantry was performed).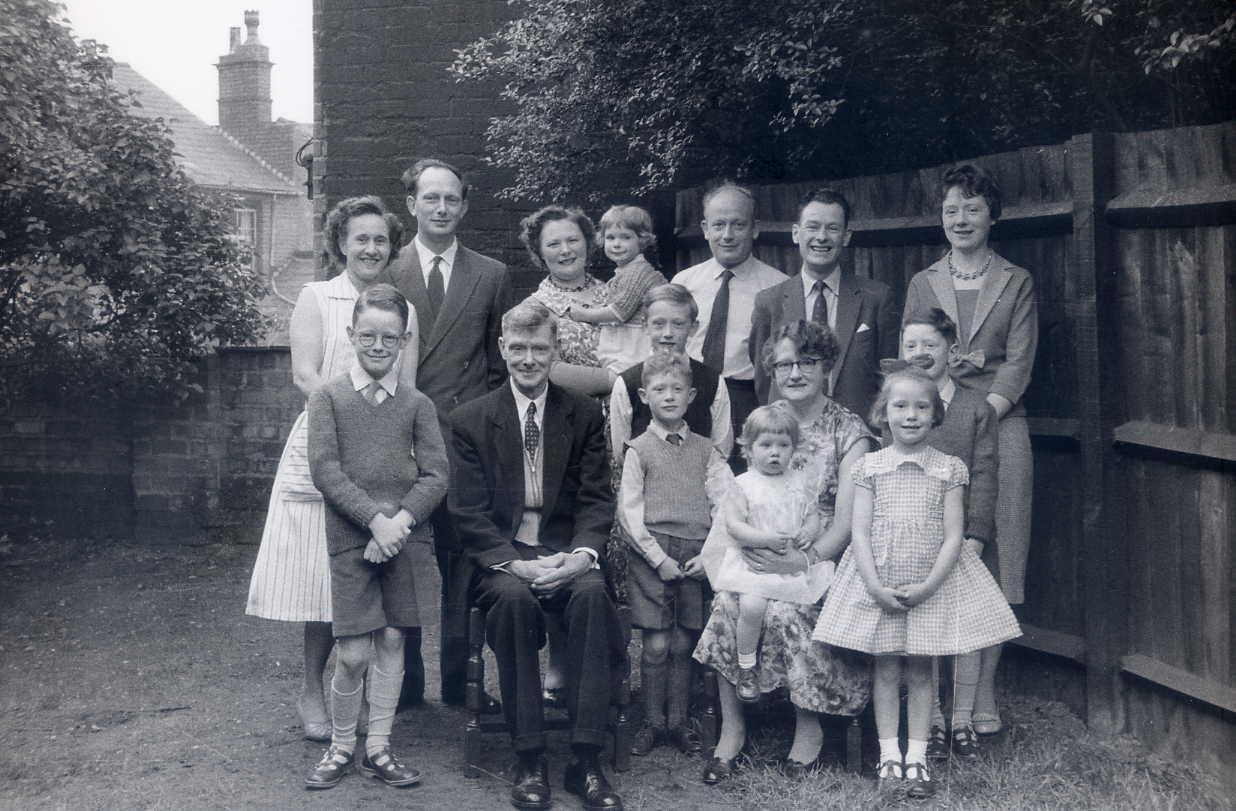 As a small child it was in looking up to him that nurtured my pride in being a Launchbury - he was a real gentleman in both stature and manner. You never heard him complain and I remember us (meaning everyone in the photograph) having a Xmas dinner together as a family and we all finished before my Mother realised that Sidney hadn't had any gravy on his turkey - it was just like him not to mention it. He taught me how to play draughts and, more importantly, taught me how to lose (a far more important grace than winning).

On 15th March I received another call from the other Keith Launchbury and we arranged to meet on Monday 10th April. A rendezvous point was needed and I suggested that it could be somewhere in north Oxfordshire but I would be happy with him sticking a pin in a map to determine precisely where - the pin chose the small village of Ramsden (war memorial pictured below), near Enstone. We would meet in the church at noon. I rang my sister, Michele, to see if she could join us on the day and she mentioned that her own research had traced the Launchburys to Ascott-under-Wychwood, circa 1400, when they owned land. It is her view that the name 'Launchbury' is the original form and this became perverted to 'Lainchbury' in the mid nineteenth century on account of the way it was spoken in the Oxfordshire dialect.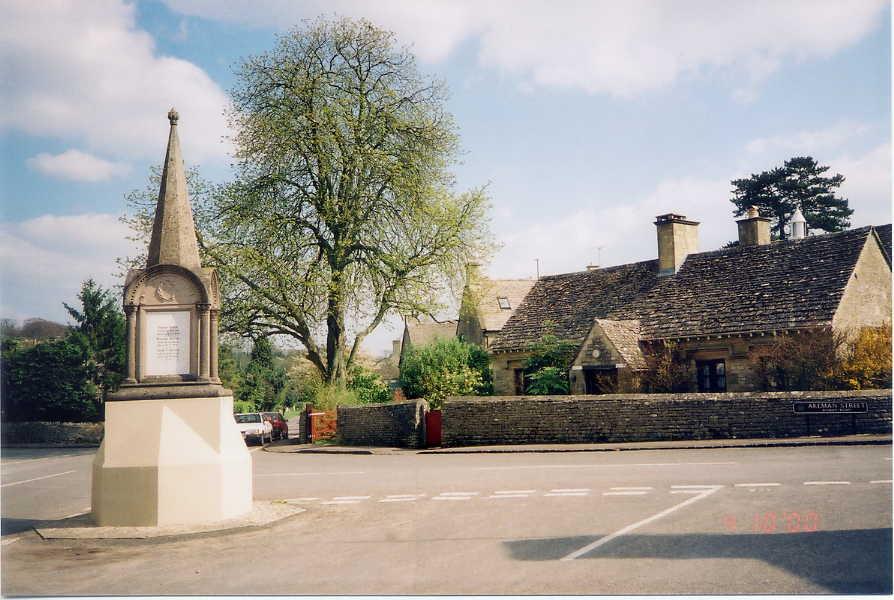 Neither of us had been to Ramsden before but our meeting (I am on the left in the picture of the two of us) was to reveal considerable history for the Launchburys in that village. A William Launchbury, who died in 1866 aged 82, had owned half of the village - his estate comprising 100 acres of farmland and village buildings which he rented out. We were told that the Launchburys had a reputation as 'criminals', though quite what was meant by this we were left none the wiser (perhaps the rent charged by William was considered rather high for the time). William was certainly a main benefactor locally, donating the money necessary to re-roof the church following a disastrous fire. The rebuilding was completed in 1872 and for his generosity he is buried just a few feet from the front door of the new church.




[Sacred to the memory of William Lainchbury who died September 12 1866 aged 82 years. Also of Sarah the wife of the above William Lainchbury who died March 19? 1884. Other words sinking into the grass.]

My sister, Michele, tells me that our grouping of Launchburys came originally from the small Oxfordshire hamlet of Dean, near Spelsbury and close to Chipping Norton. As a very small boy I remember being taken to visit 'Great Uncle Wilf' in Dean (Wilf was a first cousin of Sidney Launchbury and somewhat older - I have a vague memory that he was 84 years old at the time we met). I was advised that Great Uncle Wilf was the font of all that was known about our branch of the Launchburys, but I remember the visit most vividly because he showed me how to tickle a trout in the small brook running in a field across the lane from his bungalow. I can remember that lesson in trout tickling as clear as if it were imprinted on film.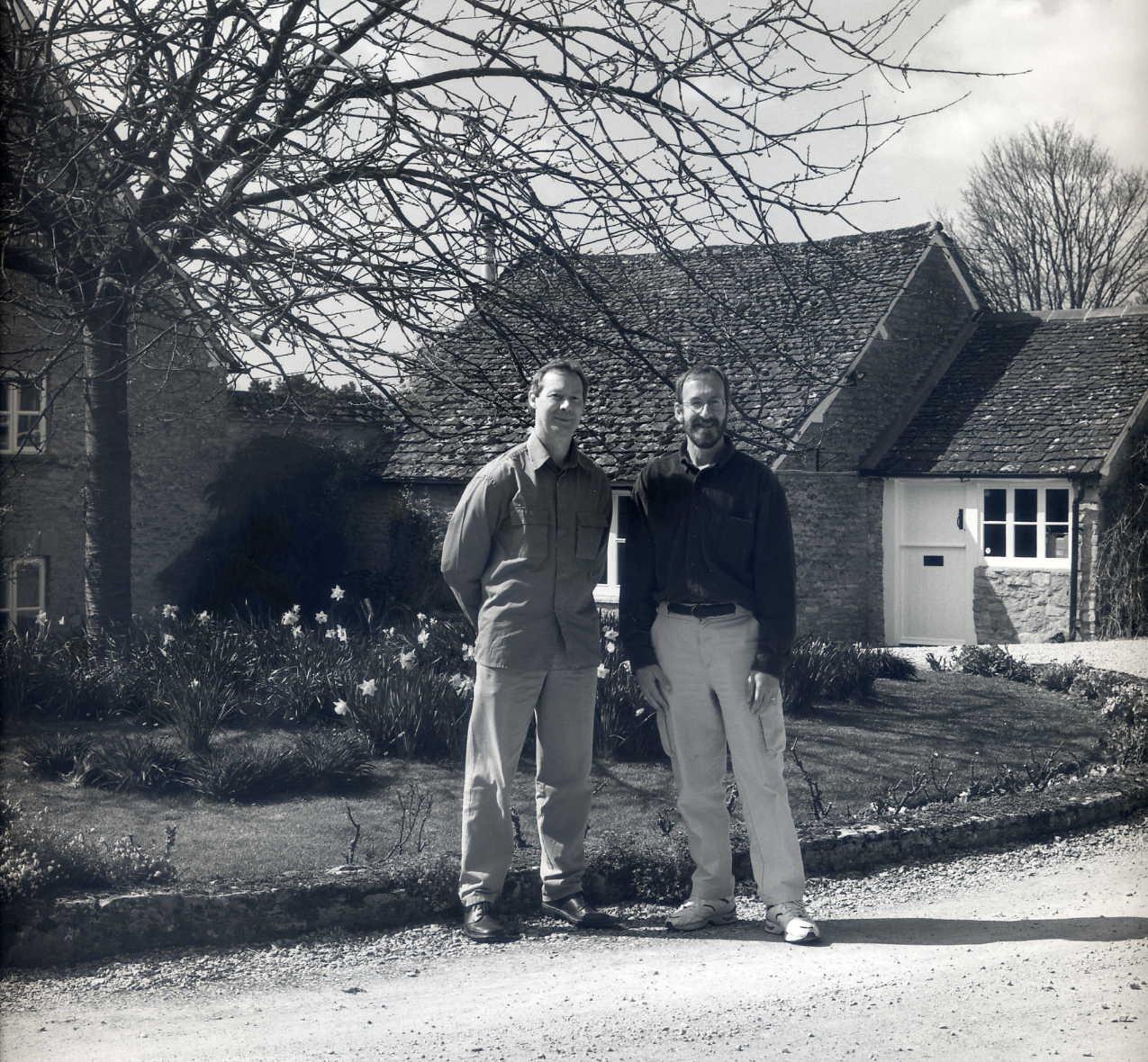 Keith Launchbury and Keith J. Launchbury pictured in front of what we decided might have been the residence of William Lainchbury, whose gravestone is pictured further down. Some of the inscription is hidden due to the weight of the stone causing it to sink a little into the ground. Keith J. Launchbury is about three years my senior and I remember remarking to my sister that he definitely walked like a Launchbury - from the back the gait is slightly loping with feet turned outwards, hard to describe but distinctive when you see it. I was always told that I stood like a Launchbury.

At the Ramsden rendezvous Keith introduced my sister and I to his partner, Claire and his parents, John and Beryl Launchbury. Keith generously treated us all to a ploughman's lunch in the village pub.

While in the church at Ramsden we met Dick Williamson, a retired solicitor, who told us that he headed a village 'Doomsday' Lottery project. There were about ten Launchbury deaths recorded in the Church records and I'm sure much more lies waiting to be discovered should we ever meet there again (here is a picture of the other Keith signing St. James' Church visitor book).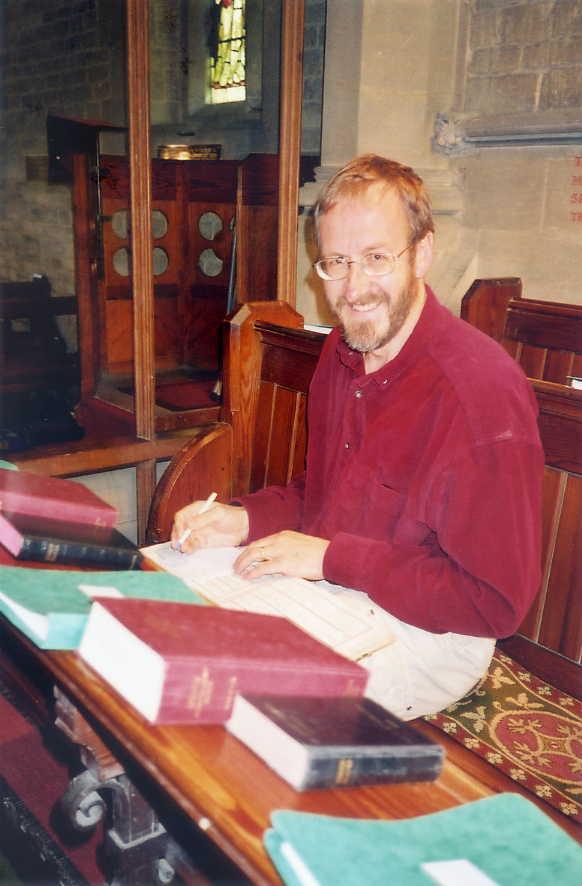 Keith's father, John, had undertaken extensive research into his own family tree and kindly gave me a copy, together with a copy of 'The New World Book of Launchburys'. Whilst my wife and I are in the book I am not, sadly, on the family tree researched by John (nor is anyone included in that group shot taken in Small Heath 50 years ago). Quite how and when Keith Launchbury and I are related remains a matter to be resolved and perhaps, one day, some crucial information will come to light that makes the determination of this possible.

Keith Launchbury
Email: LaunchburyK(at)aol.com 14th July, 2010



Please email May at maygenealogy @ lanchbury.id.au (removing the spaces). Additional data for this site will be welcomed.

This page was last updated 27th Aug 2010