Welcoming Kellie DAY to the LANCHBURY Family
4:30pm 11th April, 2003 saw the welcoming of a new member of the LANCHBURY family. Kellie DAY was married to Julian Darrin LANCHBURY, in Perth, Western Australia.
Darrin arrived at Queen's Gardens in Perth city, appearing as cool as the proverbial cucumber while awaiting his beautiful bride. Unfortunately, the day was not a pretty one, but the sun shone from Kellie's face as she arrived and I don't think either of them noticed the dark clouds or the chill of the wind.
The ceremony was relaxed and happy, in keeping with Darrin and Kellie's wishes, followed by photographs in the lovely gardens.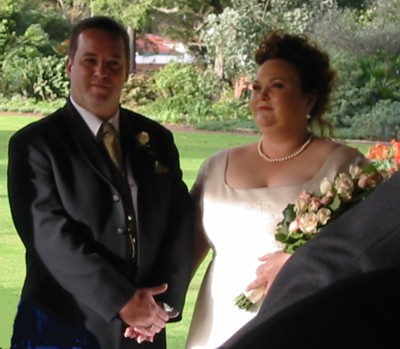 The Ceremony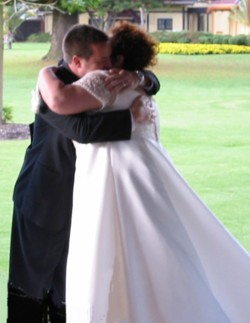 A Beautiful Hug
A photography session followed the ceremony...

LANCHBURY family group -
a new Australian record with 9 people
(We're working on the 10th)

DAY family group
Then to the river cruise for the reception.
Darrin and Kellie at the reception
aboard the MV Explorer
while cruising the Swan River,
Perth to Fremantle and return.
Darrin's speech of thanks
at the reception.




 



Darrin and Kellie
cut the Wedding Cake.
Please click here to return to the LANCHBURY homepage.